Why choose Solosan
All Solosan products contain the active ingredient Hypochlorous Acid (HOCl). Hypochlorous is produced naturally in all humans, animals and birds to fight infections and kill invading pathogens. Hypochlorous is one of the most effective known biocides capable of killing 99.9999% of all pathogens. Solosan products contain no alcohol, antibiotics, steroids or preservatives and are readily biodegradable and contain no hazardous ingredients.
Solosan is used, approved and recommended by The University of Edinburgh Royal (Dick) School of Veterinary Studies and the Roslin Institute for infection control within veterinary clinics and for the treatment and care of animals.
All you need to know about Solosan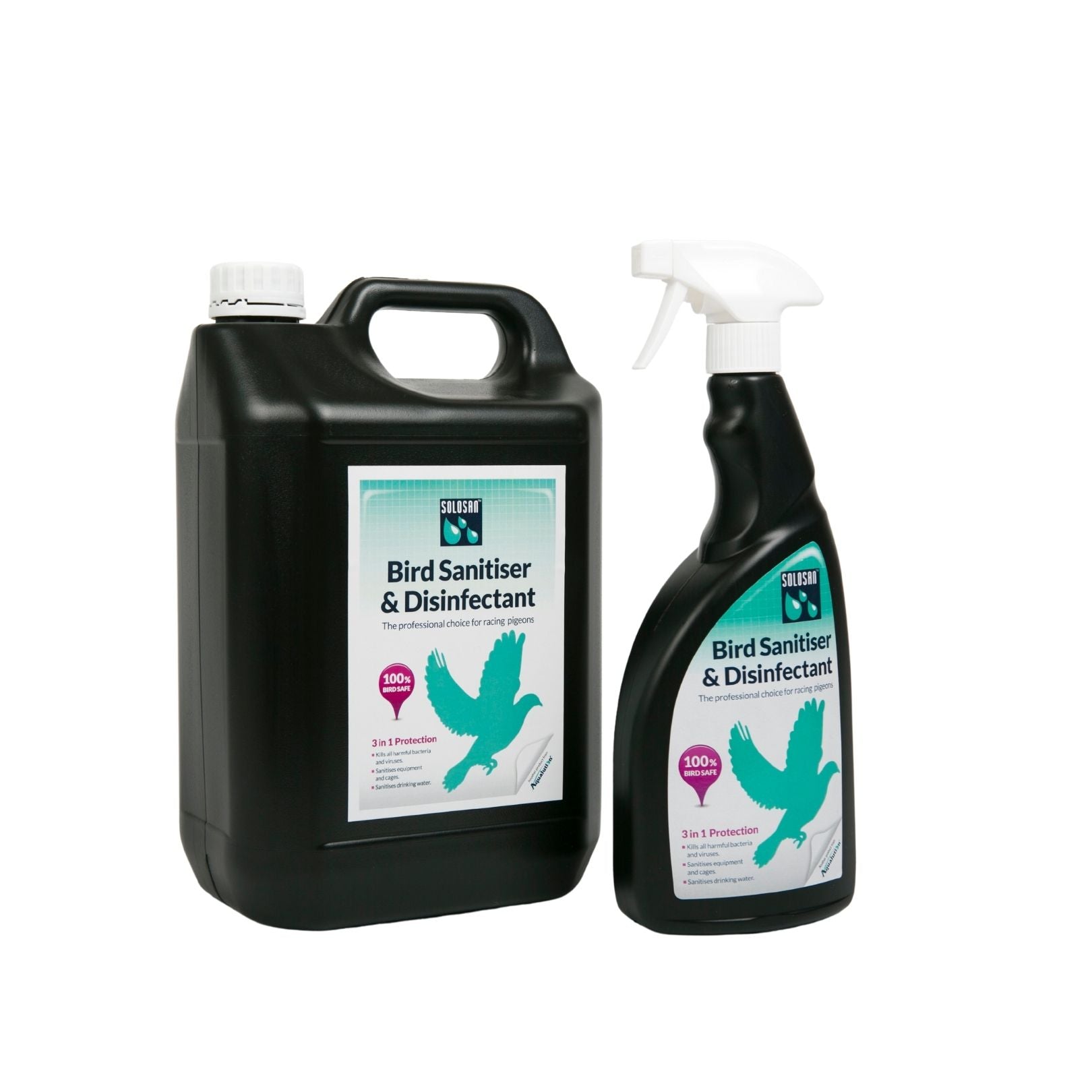 Uses for Solosan

The most effective use is in drinking water - treating water with Solosan ensures it remains clean and will not become a source of infections
Wound care and treatment when used as a first aid spray on the skin or used on dressings
Skin disinfection prior to surgery or treatment
As a sterile eye irrigant for the disinfection, cleaning and flushing of eyes
Equipment sterilisation – killing 99.9999% of harmful pathogens in seconds
Clinic disinfection of hard and soft surfaces with no need to evacuate animals or people
Complete odour control, removing urine smells immediately.
What does Solosan kill?

E coli
Campylobacter
Pseudomonas
Salmonella
Streptococcus
Staphylococcus
Avian influenza
Infectious bronchitis
Rotavirus
What does Solosan contain?

Solosan contains the purest form of hypochlorous acid made by the global leaders in its science and manufacture.

Made by electrolysing salt and water our hypochlorous acid is completely non-toxic, non-sensitising and safe for all animals and owners.
How is Solosan used?

Drinking water: water should be changed daily. Use 5-10ml per litre of clean, fresh water.

Skin: spray 0.2ml per cm2 and allow to dry.

Eyes: Flush eye gently. Repeat 3-4 times daily. Use once per day for daily maintenance.

Surfaces: spray 0.5ml per 100 cm2 and wipe dry.

Equipment: wash equipment to clean then spray 0.5ml per 100 cm2 and wipe dry.

Air misting: spray 2 ml per m3 into the air in the loft.
Benefits of Solosan

One product to treat all viral, bacterial and fungal issues in all birds
Kills 99.9999% of bacteria and 99.99% of viruses present
Fast acting in seconds
Safe and non-toxic to birds and owners
Keeps birds in top condition when used regularly or can treat specific issues
Trusted by leading vets, game keepers and pigeon enthusiasts
Available in a range of bottles and formats to suit your needs
12 month shelf life